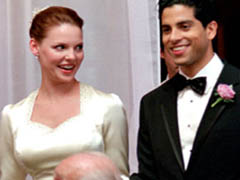 TUESDAY, NOVEMBER 13 (9:00-10:00 P.M., ET/PT

With her wedding imminent, Isabel is torn with doubt about her alien heritage and plagued with haunting dreams of her former alien lover, Kivar. Max, having returned from his failed mission in Los Angeles, reluctantly agrees to serve as Jesseís best man and, when the wedding finally seems to be going off perfectly Isabelís worst fears are realized.Acclaimed alternative rock band Ivy makes a cameo appearance.

Starring Shiri Appleby, Jason Behr, Katherine Heigl, Majandra Delfino, Brendan Fehr, Nick Wechsler, William Sadler and Adam Rodriguez.

Guest starring Garret M. Brown as Philip Evans, Mary Ellen Trainor as Diane Evans and Spence Decker as Kivar.

The teleplay was written by series co- executive producer Ronald D. Moore. The episode was directed by Fred Keller.