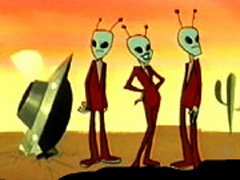 TUESDAY: 02/26/02(9:00-10:00 P.M., ET/PT)

"Chant Down Babylon" - When Max's soul is absorbed into and rejuvenates the body of Clayton, an aged industrialist, Max's spirit must fight from within to keep the magnate from killing Liz. Meanwhile, when Isabel is injured, Jesse comes closer to the truth about her alien nature.

Starring Shiri Appleby, Jason Behr, Katherine Heigl, Majandra Delfino, Brendan Fehr, Nick Wechsler, William Sadler and Adam Rodriguez.

Guest starring are Morgan Fairchild as Meris Wheeler, Jack Donner as Clayton Wheeler, Paul Fitzgerald as Dr. Paul Genson and Ashley Johnson as Eileen Burrows.

The episode was directed by Lawrence Trilling from a script by "Roswell" executive producer Ronald D. Moore.